TJB Homes Remodeling
Call Jason @ 763.286.4277 to Sketch Your Next Remodeling Project!
Remodelers Showcase > Spring 2017 (#R32)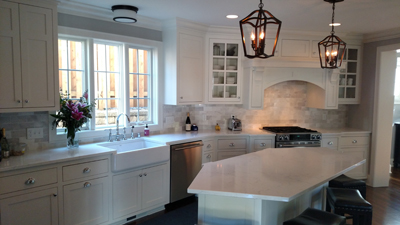 Remodelers Showcasesm Spring 2017 ~ #R32, Minneapolis, MN
1252 Brownie Road Minneapolis
View remodel photo gallery

Type of Project: Addition, Bedroom, Kitchen, Main Level, Mud Room/Laundry and Upper Level
If you think your project could be a challenge - This is one you should not miss! Original 1924 home with non-conforming detached garage & no space. One year variance approvals & 6 weeks for plan approvals.
Scope:
Kitchen/Mudroom/Bedroom addition & connect to existing Garage, enhance existing Charm & Character of the home - Timeless Craftsman design.
Results:
Gourmet Kitchen with quartz tops, enameled inset shaker doors, Carrara marble backsplash, refinished existing oak flrs & farm sink. Bedroom addition with WIC & mudroom with WIC. TJB homes was featured in 8 - Bath Crasher's episodes & 2 Extreme Makeover Home Edition.
DIRECTIONS:
1252 Brownie Road Minneapolis
I-394 to Penn Avenue S.; south to Wayzata Blvd.; left at Cedar Lake Road; follow to Brownie Road; home on the left. Home is located in Braemar neighborhood.
Click for Map
Remodel Showcase Gallery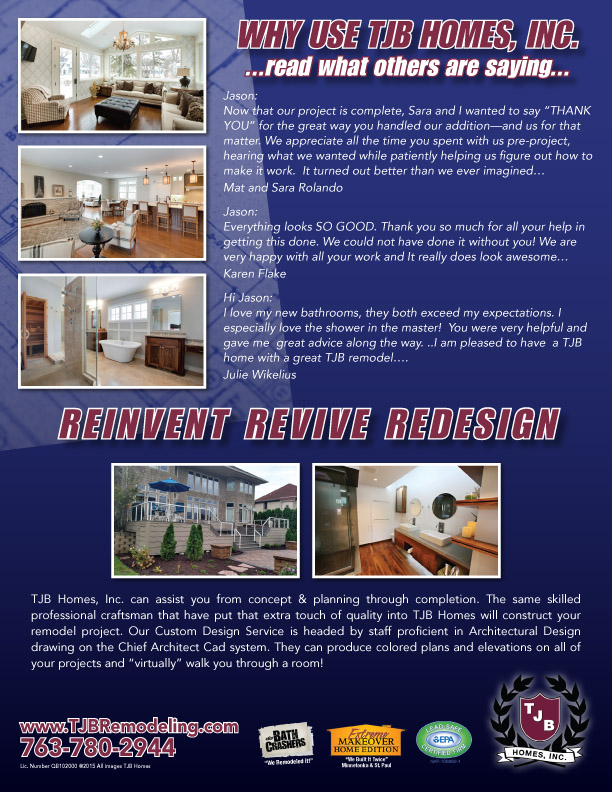 A Client's Best Friend
While tots his age were playing kick-the-can, Jason Budzynski's game was "How many nails can one find?" at his builder-father's homes. "My entire life was spent on the jobsites of TJB Homes," he declares. At ten Jason was cleaning windows and floors. By 12, he'd taken up the nail gun of a finisher, and by 14, "I could trim out and finish a house myself."
No surprise, then, that today he heads up the 35-year-old company's strong remodeling division, responsible for 22 projects last year - adding and reimagining everything from whole-house renovations, to kitchens and baths.
Speaking of baths! TJB's star turn on eight episodes of "Bath Crashers" has driven business through the roof, with customers reporting, "Mom saw the show and said, 'You have to use those guys!'"
Clients appreciate that "it's a family business, backed by the integrity of 35 years," reports Jason, who also credits his personal dedication: "I run and oversee every remodeling project, starting with the first meeting to the last day. I'm close to the client, becoming best friends with the families that I work with."
Scads of happy customers back those bold statements
Call Jason to Sketch Your Next Remodeling Project!
(763) 286-4277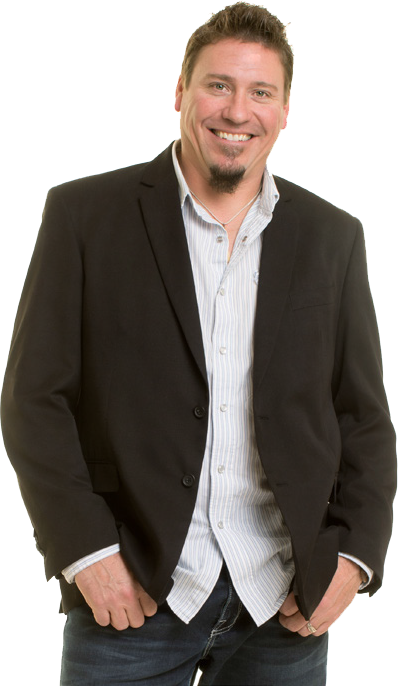 About TJB Homes Remodeling Division
TJB Homes, Inc. will assist you from concept & designing through the completion of your renovation project. The same skilled professional craftsman that adds that extra touch of quality into TJB Homes new construction, will construct your project. Our Custom Design Service is headed by a staff proficient in Chief Architect & Auto CAD Design programs. We can produce colored plans and elevations for ALL of your projects and "Virtually" walk you through your new space! TJB Homes runs a tight ship, we create a daily schedule before the project even begins and sets the completion date. You can expect experienced craftsmen working on your project daily! Give TJB a call, see what they can Sketch up for you!
TJB Homes Remodeling Division can handle all your projects including kitchens, bathrooms, home additions, cedar decks, three season porches, four season porches, screened porches, fireplaces & entertainment centers, rec rooms, wet bars, spas & whirlpools. See our Gallery of Remodels for some photo examples of our work. View our Parade of Homes Remodelers Showcase homesSM current and past projects.
Home remodeling is a financial investment that you can enjoy every day. You want to hire the right professionals for the job. You can trust TJB Homes Remodeling. Don't just take our word for it, take a look as what some of our satisfied customers say in the Customer Testimonials section.
TJB Homes is the premier home builder on the Internet with over 1,000 web pages of information about golf course homes, new home construction, Parade of HomesSM, model homes, distinctive homes, floor plans, homesites and financing. If you are interested in new home construction please visit TJBHomes.com for more info.
TJB Remodeling Send Us An Email
(Only Name & Email Fields Required)
Our Headquarters
9100 Baltimore Street
Suite 104
Blaine, MN 55449
Call us
Email Address



All Plans © 1996-2016 TJB Homes, Inc. WARNING! Copyright pending. Any plans on this web site are the creative ideas of TJB Homes Inc. Any unauthorized use, reproduction or copying for use on a plan or new home is strictly prohibited. Any violation will result in prosecution to the full extent of the law. Prices subject to change without notice. MN Lic. #1845, WI Lic. #1129514. Please note: Prices and specifications are subject to change without notice. Builder is not responsible for any errors on Web pages. Management Specialties is not responsible for any errors on Web pages.
© 1996-2016 Website by Management Specialties Web Services, LLC