TJB Homes Remodeling
Remodelers Showcase > Spring 2017 (#R32)
Friday, March 31st 12:00-6:00 | Saturday, April 1st 12:00-6:00 | Sunday, April 2nd 12:00-6:00
1252 Brownie Road Minneapolis
DIRECTIONS: I-394 to Penn Avenue S.; south to Wayzata Blvd.; left at Cedar Lake Road; follow to Brownie Road; home on the left.
Home is located in Bryn Mawr neighborhood. Click for Map

When Lucas and Sarah purchased their 1920s Bryn Mawr home in 2008 they didn't know the neighborhood well, but they quickly fell head-over-heels in love. Adjacent to Brownie Lake and a quick bike ride from downtown, it was everything they were looking for to make the move from St. Paul to Minneapolis.
The home had recently been refinished from top to bottom, but as their family expanded, the layout and space was no longer working for them.
The previous owners had turned two of the bedrooms upstairs into one master suite, and the kitchen was cut off from the rest of the house. With two children, Logan (6) and Britta (4), they knew they wanted to bring back a third bedroom and open up the kitchen.
For Sarah and Lucas, expanding the kitchen wasn't just about entertaining friends. They wanted it to be a space to spend more time with their children and connect as a family. "We definitely wanted more space to entertain our friends and family, but that wasn't our number one priority for the remodel," Sarah explained. "It was about creating a space for our family to hang out and visit with one another."
They met with three contractors, and even contemplated doing it themselves, but eventually decided on TJB Homes, Inc.
"They were upfront and honest," Lucas said. "And once things got started, everyone was always there right on time in the mornings and gone by the time we got home."

"Once the right people from the city got involved things went quickly," Lucas said.
That's when the real fun began.
When it came to the design details of the kitchen, it was a real collaboration of minds. Sarah presented her ideas to Jason Budzynski at TJB, and he would design it in a way that was functional for the space. Together, they worked out the details.
"I knew what I liked, and I knew what I wanted, but I just didn't know how it would all come together," Sarah said. "I really wanted to stay within the style of the house."
"We didn't want a 1920s house on one side and a 2016 kitchen on the other side," Lucas added.
They focused on a design that would be functional for the active family.
The biggest hurdle Lucas and Sarah faced was working with the city to overcome zoning regulations. For 14 months the family went back and forth with the city before getting approval on their project.
"We were surprised at the pushback from the city because we were staying within the character of the neighborhood," Sarah explained. "Plus, we had so much support from our neighbors."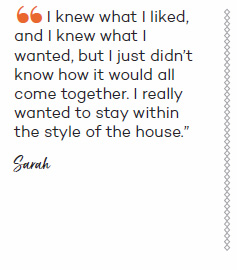 But they knew they wanted to stay in the neighborhood and were determined to make it work. TJB helped guide them through parts of the process, and over a year later they received a variance from the city and moved forward.
"Our other kitchen was nice, but it was too small for us. It had marble countertops, which were beautiful, but got beat up within the first year. We decided to go with quartz because it's the style we were looking for," Sarah said. "We wanted a countertop that would hold up with two little kids in the house."
The remodel took about 13 weeks and was right on schedule. The final project was completed in September 2016 and included an addition to expand and open the kitchen, a new mudroom, an additional bedroom upstairs and connecting the existing garage to the house. Now they have the space they need without feeling separated from one another.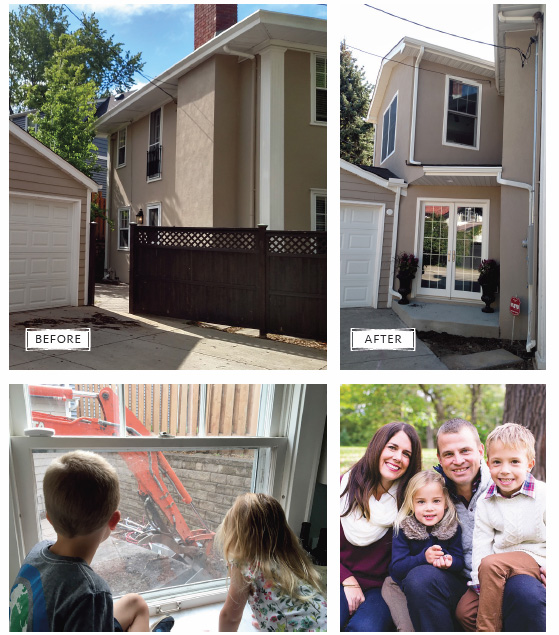 "I love the closeness of the house. I can hear when Logan and Britta are playing upstairs in their rooms or when they're down in the basement," Sarah said. "It's just the right amount of space for us."
With the remodel complete, Lucas and Sarah couldn't be happier with the results. A weight has been lifted off their shoulders and they're finally able to relax in a space that was made for their family.
"Even though it took a lot of time and energy, it was all worth it because we don't have to think about moving anymore." Sarah said. "Now we get to stay."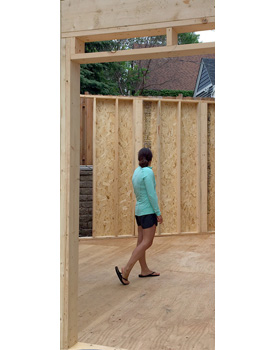 Quartz Kitchen Counters
allow the family to go about their lives without worrying about ruining the counters. This island was custom designed for the shape of the family's kitchen.
A Glowing Sink Space
brings a fresh feel to the kitchen. This beautiful farmhouse sink stays within the style of the home.
Easy Access Drawers
provide function and style. These organization compartments make it easy to sort and grab utensils. An organized kitchen is a happy kitchen.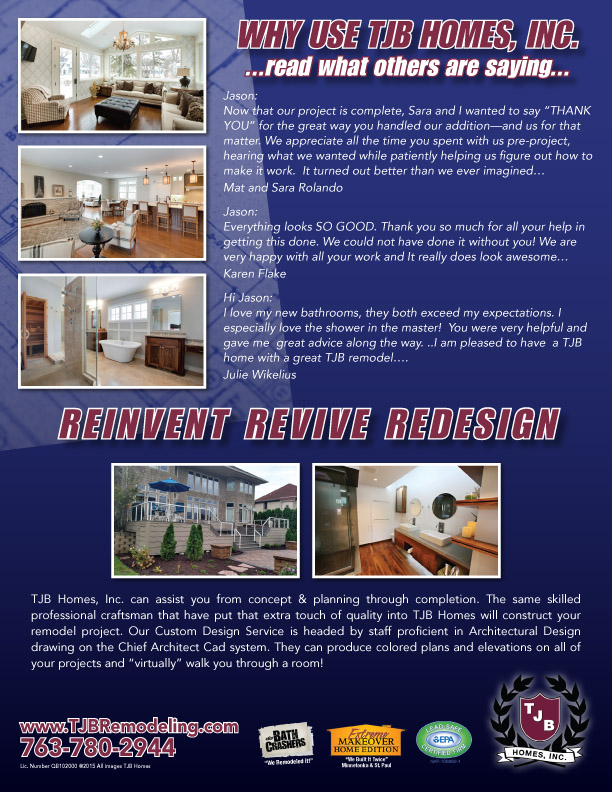 A Client's Best Friend
While tots his age were playing kick-the-can, Jason Budzynski's game was "How many nails can one find?" at his builder-father's homes. "My entire life was spent on the jobsites of TJB Homes," he declares. At ten Jason was cleaning windows and floors. By 12, he'd taken up the nail gun of a finisher, and by 14, "I could trim out and finish a house myself."
No surprise, then, that today he heads up the 35-year-old company's strong remodeling division, responsible for 22 projects last year - adding and reimagining everything from whole-house renovations, to kitchens and baths.
Speaking of baths! TJB's star turn on eight episodes of "Bath Crashers" has driven business through the roof, with customers reporting, "Mom saw the show and said, 'You have to use those guys!'"
Clients appreciate that "it's a family business, backed by the integrity of 35 years," reports Jason, who also credits his personal dedication: "I run and oversee every remodeling project, starting with the first meeting to the last day. I'm close to the client, becoming best friends with the families that I work with."
Scads of happy customers back those bold statements
Call Jason to Sketch Your Next Remodeling Project!
(763) 286-4277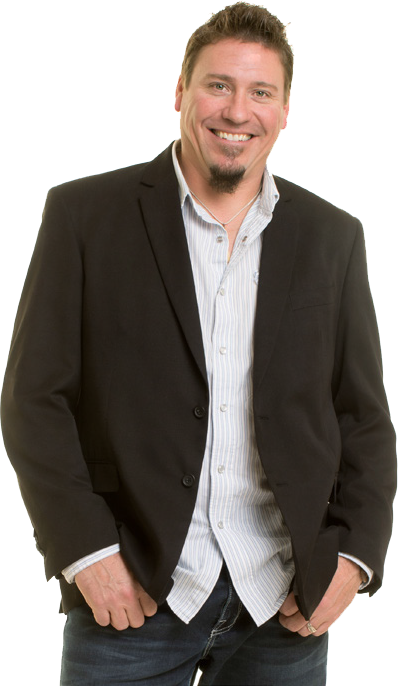 About TJB Homes Remodeling Division
TJB Homes, Inc. will assist you from concept & designing through the completion of your renovation project. The same skilled professional craftsman that adds that extra touch of quality into TJB Homes new construction, will construct your project. Our Custom Design Service is headed by a staff proficient in Chief Architect & Auto CAD Design programs. We can produce colored plans and elevations for ALL of your projects and "Virtually" walk you through your new space! TJB Homes runs a tight ship, we create a daily schedule before the project even begins and sets the completion date. You can expect experienced craftsmen working on your project daily! Give TJB a call, see what they can Sketch up for you!
TJB Homes Remodeling Division can handle all your projects including kitchens, bathrooms, home additions, cedar decks, three season porches, four season porches, screened porches, fireplaces & entertainment centers, rec rooms, wet bars, spas & whirlpools. See our Gallery of Remodels for some photo examples of our work. View our Parade of Homes Remodelers Showcase homesSM current and past projects.
Home remodeling is a financial investment that you can enjoy every day. You want to hire the right professionals for the job. You can trust TJB Homes Remodeling. Don't just take our word for it, take a look as what some of our satisfied customers say in the Customer Testimonials section.
TJB Homes is the premier home builder on the Internet with over 1,000 web pages of information about golf course homes, new home construction, Parade of HomesSM, model homes, distinctive homes, floor plans, homesites and financing. If you are interested in new home construction please visit TJBHomes.com for more info.
TJB Remodeling Send Us An Email
(Only Name & Email Fields Required)
Our Headquarters
9100 Baltimore Street
Suite 104
Blaine, MN 55449
Call us
Email Address