---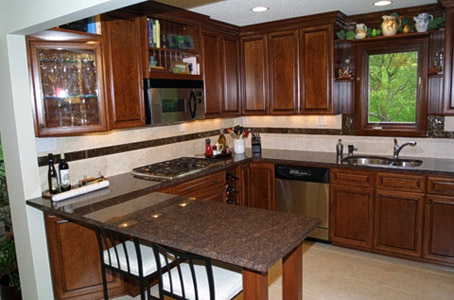 Edina Townhome Kitchen Remodel
Scope:
How do you take a 1970's kitchen in a townhome with a walled off enclosed kitchen, NO storage, NO work space & cabinets that are so far out of date Fred Flintstone is calling!!!!
Description: Completely gut entire the kitchen, remove a wall to create open kitchen design, relocate frid to a new location maintaining and proper flow in the work space, Custom cabinetry to maximize every Sq. inch of useable space, Cherry cabinets & granite tops w/ tiled backsplash creating a timeless design that will outlast the existing house!!!!
Results: One extremely Satisfied Customer & Homeowner with a kitchen they are proud of. Click to read testimonial!!!!