Call Jason @ 763.286.4277 to Sketch Your Next Remodeling Project!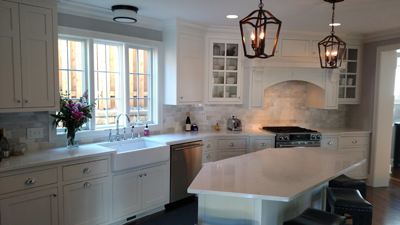 Type of Project: Addition, Bedroom, Kitchen, Main Level, Mud Room/Laundry and Upper Level
If you think your project could be a challenge - This is one you should not miss! Original 1924 home with non-conforming detached garage & no space. One year variance approvals & 6 weeks for plan approvals.
Scope:
Kitchen/Mudroom/Bedroom addition & connect to existing Garage, enhance existing Charm & Character of the home - Timeless Craftsman design.
Results:
Gourmet Kitchen with quartz tops, enameled inset shaker doors, Carrara marble backsplash, refinished existing oak flrs & farm sink. Bedroom addition with WIC & mudroom with WIC. TJB homes was featured in 8 - Bath Crasher's episodes & 2 Extreme Makeover Home Edition.
Remodel Showcase Gallery
---
"Fit for a Family"
As seen in the
2017 Spring Remodelers Showcase®

(See photos and project details above)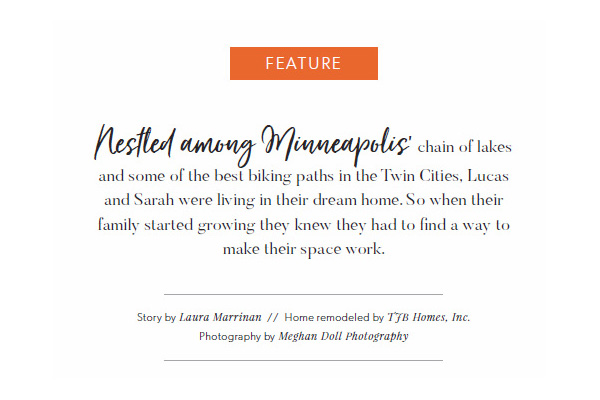 When Lucas and Sarah purchased their 1920s Bryn Mawr home in 2008 they didn't know the neighborhood well, but they quickly fell head-over-heels in love. Adjacent to Brownie Lake and a quick bike ride from downtown, it was everything they were looking for to make the move from St. Paul to Minneapolis.
The home had recently been refinished from top to bottom, but as their family expanded, the layout and space was no longer working for them.
The previous owners had turned two of the bedrooms upstairs into one master suite, and the kitchen was cut off from the rest of the house. With two children, Logan (6) and Britta (4), they knew they wanted to bring back a third bedroom and open up the kitchen.
For Sarah and Lucas, expanding the kitchen wasn't just about entertaining friends. They wanted it to be a space to spend more time with their children and connect as a family. "We definitely wanted more space to entertain our friends and family, but that wasn't our number one priority for the remodel," Sarah explained. "It was about creating a space for our family to hang out and visit with one another."
They met with three contractors, and even contemplated doing it themselves, but eventually decided on TJB Homes, Inc.
"They were upfront and honest," Lucas said. "And once things got started, everyone was always there right on time in the mornings and gone by the time we got home."
"Once the right people from the city got involved things went quickly," Lucas said.
That's when the real fun began.
When it came to the design details of the kitchen, it was a real collaboration of minds. Sarah presented her ideas to Jason Budzynski at TJB, and he would design it in a way that was functional for the space. Together, they worked out the details.
"I knew what I liked, and I knew what I wanted, but I just didn't know how it would all come together," Sarah said. "I really wanted to stay within the style of the house."
"We didn't want a 1920s house on one side and a 2016 kitchen on the other side," Lucas added.
They focused on a design that would be functional for the active family.
The biggest hurdle Lucas and Sarah faced was working with the city to overcome zoning regulations. For 14 months the family went back and forth with the city before getting approval on their project.
"We were surprised at the pushback from the city because we were staying within the character of the neighborhood," Sarah explained. "Plus, we had so much support from our neighbors."
But they knew they wanted to stay in the neighborhood and were determined to make it work. TJB helped guide them through parts of the process, and over a year later they received a variance from the city and moved forward.
"Our other kitchen was nice, but it was too small for us. It had marble countertops, which were beautiful, but got beat up within the first year. We decided to go with quartz because it's the style we were looking for," Sarah said. "We wanted a countertop that would hold up with two little kids in the house."
The remodel took about 13 weeks and was right on schedule. The final project was completed in September 2016 and included an addition to expand and open the kitchen, a new mudroom, an additional bedroom upstairs and connecting the existing garage to the house. Now they have the space they need without feeling separated from one another.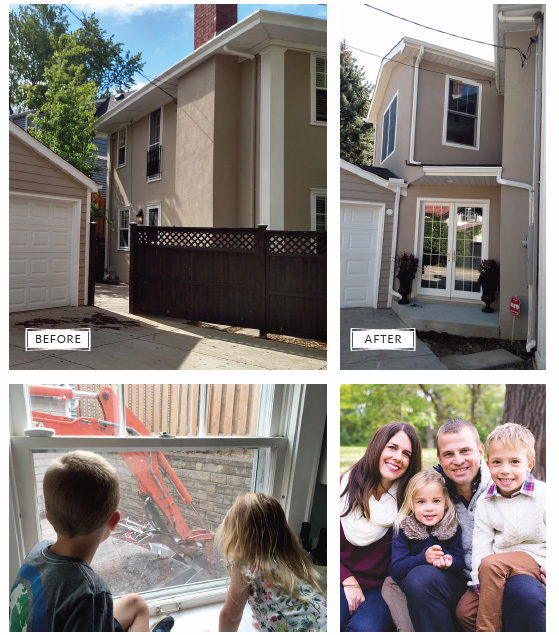 "I love the closeness of the house. I can hear when Logan and Britta are playing upstairs in their rooms or when they're down in the basement," Sarah said. "It's just the right amount of space for us."
With the remodel complete, Lucas and Sarah couldn't be happier with the results. A weight has been lifted off their shoulders and they're finally able to relax in a space that was made for their family.
"Even though it took a lot of time and energy, it was all worth it because we don't have to think about moving anymore." Sarah said. "Now we get to stay."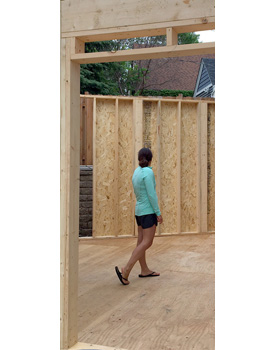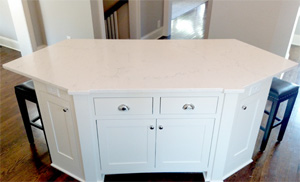 Quartz Kitchen Counters
allow the family to go about their lives without worrying about ruining the counters. This island was custom designed for the shape of the family's kitchen.
A Glowing Sink Space
brings a fresh feel to the kitchen. This beautiful farmhouse sink stays within the style of the home.
Easy Access Drawers
provide function and style. These organization compartments make it easy to sort and grab utensils. An organized kitchen is a happy kitchen.