Call Jason @ 763.286.4277 to Sketch Your Next Remodeling Project!
(Golden Valley, MN)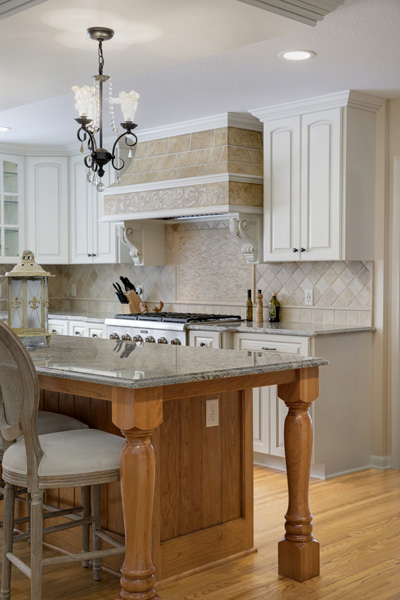 Type of Project: Kitchen & Addition
16′ x 12′ addition, blends seamlessly w/ existing structure
New 300 sq. ft. colored, stamped & bordered concrete patio
French County inspired design
This kitchen was inspired & designed with entertaining and cooking in mind
Glazed enameled cabinets
4′ x 12′ Cherry center island w/ 5″ newel posts
Custom wood hood w/ corbels, artistry paint work of brick work & a Fleur-de-lis
Granite tops
Butcher block top (solid 2″ thick maple)
Refinished existing & matched existing 1-1/4″ red oak
Huge Andersen windows overlooking rear yard
Not one but two dishwashers
24 drawers
Full overlay cabinets, raised panel w/ arch on uppers
5-1/2″ crown w/ build up
Custom drop Soffit over center island
Farmhouse sink
Tumbled marble backsplash
36″ gas cooktop
36″ warming drawer
36″ built in fridge
24″ wine fridge
Double ovens w/ built in micro customer installed in brick wall
Spice rack pullout, pan divider pullout, 20 tier silverware drawer, corner drawer stack
Floor Plans
Kitchen Before Addition/Remodel
Chris was still in California when Devon and their realtor went searching for a home to buy. A few photos later, the couple decided on a 1957 residence in an established Golden Valley neighborhood.
"I didn't see the home until we actually closed," says Chris who remembers being a little quiet the first time he saw it. "I had a hard time seeing beyond what was there." The neighborhood kids called it the "pumpkin house" due to its cinnamon orange exterior. And it had 1976 décor inside. There was foil wallpaper in the bathroom, pink tile in the hall bath and salmon tile in the master bath.
But Devon knew the home had plenty of potential. They settled in and with a little elbow grease and paint, fixed a number of the cosmetic issues in the first two years. Then in 2002 they decided it was time to tackle the first of what would become three remodeling phases.
"There was a family room addition to the back of the house that was all gray with a popcorn ceiling," Devon explains. They spent a lot of time in that room so it seemed a natural first project.
They started searching for a remodeler during the Remodelers Showcase, and walked thru a neighbor's house that had been renovated by TJB Remodeling. "We were impressed," says Devon. "We had gotten quotes and talked to other contractors, but TJB came out on top as far as price and quality of work."
TJB gutted the family room down to the studs, added a gas fireplace, put in new carpeting and basically created a whole new room. Devon designed the centerpiece of the space, an overmantle above a fireplace surrounded by a cherry entertainment center that beautifully holds their DVDs, CDs and much more.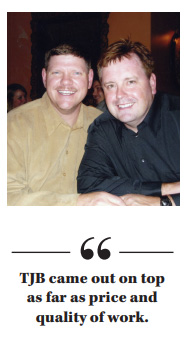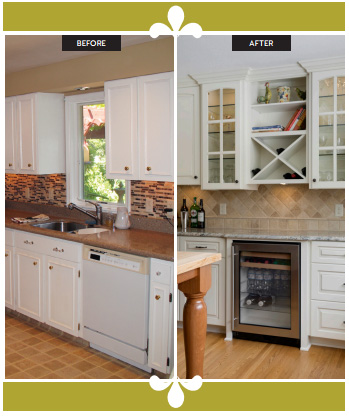 It took them about ten years to give the exterior a facelift and update all the bathrooms. Once again they recruited TJB to work their magic. The new Mission style front included fieldstone to replace the white painted brick and pillars at the front entry. The garage got an additional 10 feet for a much needed mudroom with closet and pantry.
After that "we continued to putter and do things as always," Devon reports. Then in 2017 they started talking about adding a pool to the back yard like the one they had in California.
"Once reality set in (we knew pools in Minnesota don't add a lot of value) we relooked at where the next renovation should go," Devon continued. "Chris loves to cook, and the 50's kitchen was tiny with hardly any usable counter space."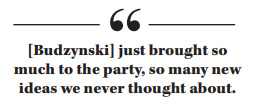 They loved the neighborhood and so decided to go for it. First, they hired a designer to create the plans and went to the designer's recommended contractor for an estimate.
Soon it was apparent that the new contractor just wasn't going to work. "They weren't as detailed as TJB," Devon explains. "It was like night and day. Originally he threw out a lowball price, but then it just kept going up."
That's when they called Jason Budzynski at TJB who worked with them to meet their budget, but still, according to Chris, "gave us everything we wanted and more."
Budzynski made a number of design recommendations too. "He just brought so much to the party, so many new ideas we never thought about," Devon says, "They really improved the whole project overall."
They love their new kitchen and according to both of them "it feels like we live in a whole new house!"
When you visit this home #30 on the Spring Remodelers Showcase, you can see all three phases of this beautifully remodeled home.